Thought you could not buy a home because of low scores!!! think again!! We have new home loans for Veterans with low credit scores down to 560 with great VA loan rates….We like to see our Veterans in a new home and now we have the programs…..see if you qualify. Click here to qualify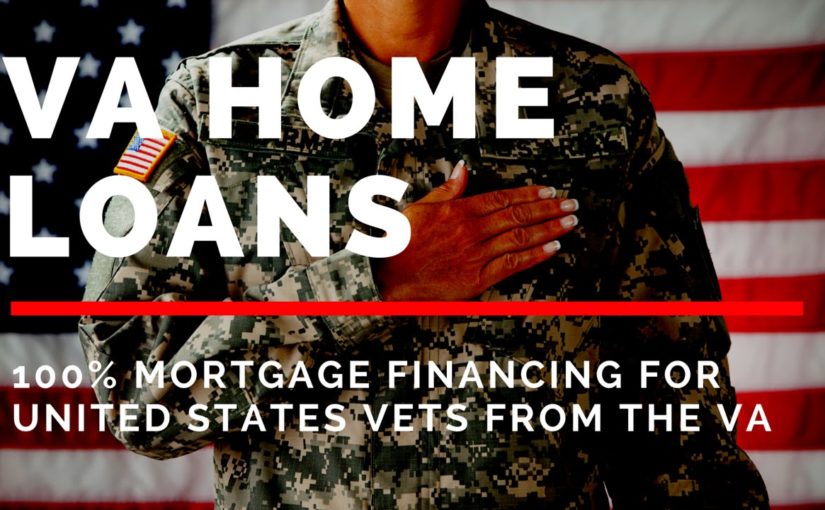 VA Home Loan Benefits
VA home loan benefits give eligible borrowers access to mortgages with advantages that do not exist with conventional loans. There are several distinct elements of the VA loan that are designed to help Veterans and other eligible borrowers obtain home mortgages.
Unique Features of VA Mortgages
• No down payment on most home purchases
• Certain closing costs limited by the VA
• No private mortgage insurance (PMI)
• No penalty for early loan repayment
• Free mortgage counseling for distressed borrowers
Lenders can offer no down payment up to conforming loan limits for borrowers with ample entitlement. This unique advantage of the VA loan program can benefit borrowers who haven't had the opportunity to save much money. In fact, 90% of VA purchases have been made without a down payment since the program's inception in 1944. The no-down-payment feature alone can enable some eligible borrowers to purchase homes they might otherwise be unable to afford with other types of home mortgage programs. It may be helpful to pre-qualify so you get an idea of your budget before shopping for a home.
Another topic worth discussing is mortgage insurance. Most non-VA mortgages require costly PMI for borrowers who do not have at least 20 percent equity or more in their homes. Because a portion of VA loans are backed for the lender by the federal government, PMI is never allowed. A VA funding fee is required on most VA loans.
Eligibility Requirements for a VA Home Loan. Credit Scores Must Be 560 & Above
VA eligibility is earned through service to our country. Active duty (Title 10) members can become eligible after 90 straight days during wartime or 181 days during peacetime. If not called to active duty, regular military members need to serve two continuous years, and Reservists and Guard members must serve six years. The VA loan benefits are available to most Veterans who served prior to the early 1980s as long as they have 90 total days of active military duty during WWII, Korea War or Vietnam War, or 181 continuous days of active duty between these conflicts. This is just a summary of the eligibility guidelines. Find a more comprehensive overview on the Department of Veterans Affairs website.
Regardless of when you served, the VA has a rule regarding honorable discharge. To be eligible for VA home loans, a Veteran, if separated from the military, must have done so for reasons other than dishonorable discharge. Also, if your service was shortened due to an injury, illness, reduction in force or some other qualifying reason, the VA may still award home loan benefits in some cases even if you do not meet the minimum service duration requirements.
DD214 Form Request
The DD Form 214, also known as the Certificate of Release or Discharge from Active Duty, is the separation document issued by the US Department of Defense. This document contains information regarding a service member's military separation, retirement, or discharge.
You may need to supply a copy of your DD214 to help a mortgage lender establish eligibility for the VA home loan program. A VA lender can often receive your Certificate of Eligibility instantly through the VA's direct website, even without your DD214, but you'll need to speak to a VA loan officer to verify.
Do I need a DD214 for a VA loan if I'm still in the military?
Since active-duty service members are not yet separated from service, they will not have a DD214. In lieu of this form, they need to supply a statement of service signed by the adjutant (senior officer's assistant), personnel office, or commander of the unit.
4 Ways to Request Your DD214
1. Digital Express
If you need your DD214 quickly, you should request the services of a DD214 express service. There are numerous services found online (like this one), and there is a usually a fee associated. But if you need your DD Form 214 in a hurry, expedited service is a great option.
2. Request your DD214 online
If you don't need your DD214 right away, you can request it online directly from the National Personnel Records Center (NPRC). This option allows you to complete the necessary information online through eVetRecs, NPRC's online request system.
3. Request the DD214 by fax
You can also request DD214 duplicate copies directly from the National Personnel Records Center by faxing a completed and signed SF-180 form to fax number 314-801-9195.
4. Mail in your request
Mail a written request for your DD214 to:
National Personnel Records Center
Military Personnel Records
1 Archives Drive
St. Louis, MO 63138
Our mortgage specialists can help you obtain a copy of your DD214. To speak with a mortgage expert who can assist you, call (704) 541-4707 or See if I qualify